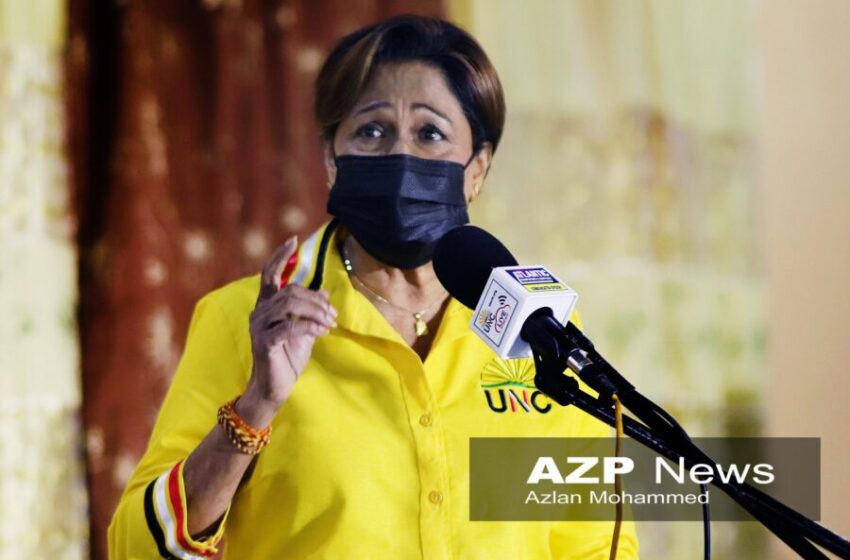 Kamla Persad-Bissessar
Kamla Calls on Women to Stand Up
March 8, 2021
208

4 minutes read
OPPOSITION Leader Kamla Persad-Bissessar is calling for women to have greater participation in the decision-making process.
In her message on International Women's Day on Monday, she said, "As we go forward in seeking to renew and rebuild, greater citizen involvement is required, and in particular, greater participation by women in the decision-making process.  We need more women rising to the challenge and taking up leadership roles in their communities, in the boardrooms, and in Parliament.
"I issue a call today to girls and women across our beautiful twin-island nation to step up and claim your space. Continue to break barriers, continue to shatter the glass ceiling, and continue to stand proud in all your achievements.
"Let us all work towards creating opportunities for all citizens to thrive.
"As a woman Parliamentarian and leader of a political party, I pledge to continue working to improve the lives of my fellow Trinbagonians."
Noting that this year's theme was "Women in leadership: Achieving an equal future in a Covid-19 world," she said it recognizes and celebrates the efforts of women and girls around the world in shaping a more equal future and recovery from the Covid-19 pandemic.Persad-Bissessar said the pandemic has impacted on health systems, economies and education sectors around the world.
She added, "Here in Trinidad and Tobago, we have also seen how the Covid-19 pandemic and associated lockdown measures have affected the entire population, with significant negative impacts on our women."The tourism and hospitality industries, which employ a high proportion of women, have been severely affected by the pandemic, and with businesses shutting down, large numbers of women have lost their jobs. And, after several months, many are still waiting on the promised salary relief grants.  In some cases, women have had to leave their jobs to care for families and ensure their children are able to switch to online learning.
"Women are also on the frontline of fighting the pandemic – as nurses, doctors and first responders. Also, women have been at the forefront of scientific research and development of the vaccines for Covid-19, and we applaud their efforts."However, in addition to the challenges of loss of income and employment, women are at increased risk of domestic violence in the pandemic, as the economic strains and restrictions have increased stress and tension in the home.
"Many women no longer feel safe at home, at work, or in any aspect of their daily lives."

The political leader of the United National Congress said gender-based violence continued to be at unacceptable levels and in recent months the deaths of young women at the hands of criminals have caused immense grief and trauma.
Persad-Bissessar said, "However, the citizenry has also been spurred into demanding more of their leaders.
"We understand and acknowledge that more must be done to protect our women and to give them a fighting chance.  "We recently learned that despite public pressure to make non-lethal weapons available, and a promise by the government to enact the necessary legislation, there is still no word on when this will be done. "It is painfully clear that the current administration has no coherent plan to take us out of the economic crisis we are currently facing – a crisis that began long before Covid-19, and therefore it is up to us to work together to effect change."