Flooding. Photo: Facebook/ MP for Oropouche West Davendranath Tancoo
Heavy Rains Cause Flooding in Parts of Trinidad
September 19, 2020
22

3 minutes read
By Sue-Ann Wayow
THE heavy rains and thunderstorm activity experienced on Saturday morning were a result of Hurricane Teddy although Trinidad and Tobago is under no direct threat.
The Trinidad and Tobago Meteorological Service (TTMS) stated in its regular update, "Although T&T is under no direct threat from Hurricane Teddy, the showery spells and convective activity that occurred this morning is as a result of a low level trough to the west of the region induced by the cyclone.
"As Hurricane Teddy continues to move towards the North West, the convective activity over Trinidad and Tobago is expected to drift northward. As such conditions are expected to gradually improve this afternoon to give a mostly fair night."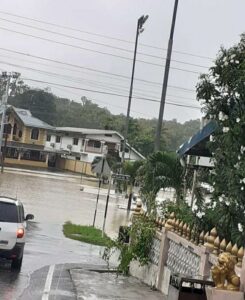 The TTMS advised that gusty winds and flash flooding would have accompanied the heavy showers and thunderstorms.
The Ministry of Rural Development and Local Government posted several flood alerts during the day with major flooding being reported in Bon Air West. Barrackpore that experienced flooding also experienced loss of electricity. There were also reports of flooding in Penal/Debe, Arouca and Longdeville.
The ministry along with the Office of Disaster Preparedness and Management (ODPM) issued information to the public including emergency contact numbers and tips on what to do during flooded situations throughout the day.
And Member of Parliament Davendranath Tancoo lamented that once again residents of low lying area Oropouche West, the constituency he represents was once again affected by flooding.
With the Budget due on October 5, Tancoo made a call to Government to ensure that proper infrastructure were in place to alleviate flooding in the constituency that he said was suffering from "geographic discrimination."
He stated, "I call on the Prime Minister, the Minister of Finance, the Minister of Works and Transport, the Minister of Rural Development & Local Government, to take action in the upcoming budget to ensure that the perennial flooding problems, and the resultant financial losses of residents, farmers, and other business persons are addressed.
"We are fighting for years now about, the need to repair the flood gates, the need for a proper flood mitigation plan and the need to compensate for massive losses incurred."
He also commended the South Oropouche Riverine Flood Action Group for their work in undertaking research, providing their recommendations and solutions to Government.