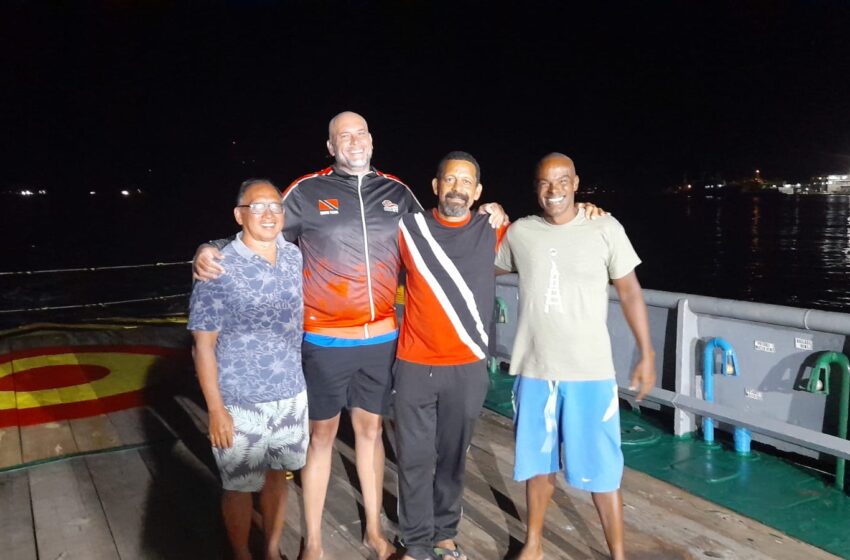 The four swimmers safe on land in Chaguaramas. From left Patrick Lee Loy, William Carr, Roger Watts and John Procope
Dolphins Sign Stops Tobago to Trinidad Swim…
4 Swimmers Call it Quits after 10 hours in Water
By Prior Beharry
AFTER ten hours of heavy currents, rough seas and a pod of dolphins briefly accompanying them, four swimmers trying to make it from Tobago to Trinidad on Saturday called it quits.
William Carr, Patrick Lee Loy, Roger Watts and John Procope did not complete their journey after currents pushed them to the northwest of Trinidad and far away from the northeastern coast at Grand Riviere – where they had intended to land.
On Sunday, Carr said, "The battle for the first three hours seemed to push us into this zone and our progress became either slight to the latter part of the swim a negative gain.
"Probably would have been easier to head to Grenada at this point.. hmm that's an idea."
The four had left Natural Palm Beach, off Hampden Road in Tobago about 4 am on Saturday to make the 45-kilometre journey.
But halfway had to call it off.
Experience swim coach Edward Tuberoso led them out with a kayak and there were two support vessels and a Coast Guard Interceptor that accompanied the swimmers.
The support boats include Glady McCall operated by Captain Mike Toussaint while Tropicbird will have skipper Bertrand Bhikarry at the helm.
The swimmers had a swim buoy affixed with a blinking safety light. They were fed from the support ships at intervals with at least two of them having cramps.
Carr said they took a pounding for the first four hours.
He said, "But we were well trained for that and knew we could handle it. We were more concerned about the support team on the vessels rocking and rolling. The waves did affect the plan in many ways."
He said the main issue was feeding as the boats could not have transferred the coolers safely and for the first two hours they had to make do with what was available from the feeder's vessel.
He said, "Daylight was reassuring it always is, we could see the waves and adjust our stroke and breathing to match. But it did visibly show us that the distance we made in 1.5 hours was way less than where we should be using land markings in our lead-up swims.
"We pushed through cramping, vomiting and until at 4 am we were making headway and Trinidad was visible in the distance and over our shoulders, Tobago was getting further away.
"Then came the vacuum effect of the dreaded shallows. This we knew from day one was what we had to avoid and the reason for so many test swims over in Tobago to find a suitable start to avoid its currents.
"The battle for the first three hours seemed to push us into this zone and our progress became either slight to the latter part of the swim a negative gain."
He said, "Mentally understanding that I am seeing the sea floor as we are over the shallows, watching the support boat alongside and swimming with everything left in me but not moving for an hour.
"At one time I thought my GPS watch had stopped working as I was on 28 km for about two hrs.
"The dolphin pod swimming alongside and jumping around us was just what I needed at that time. They distracted the focus from Trinidad becoming further and further away and Tobago becoming closer and closer.
"And when they left us with a visible shot of one flying out of the sea and Flipping just in front of me. We knew it was time to get 'flipping' out of their world.
"That call was the hardest call to make but had to be made. Another time another day seemed to be reassuring enough."