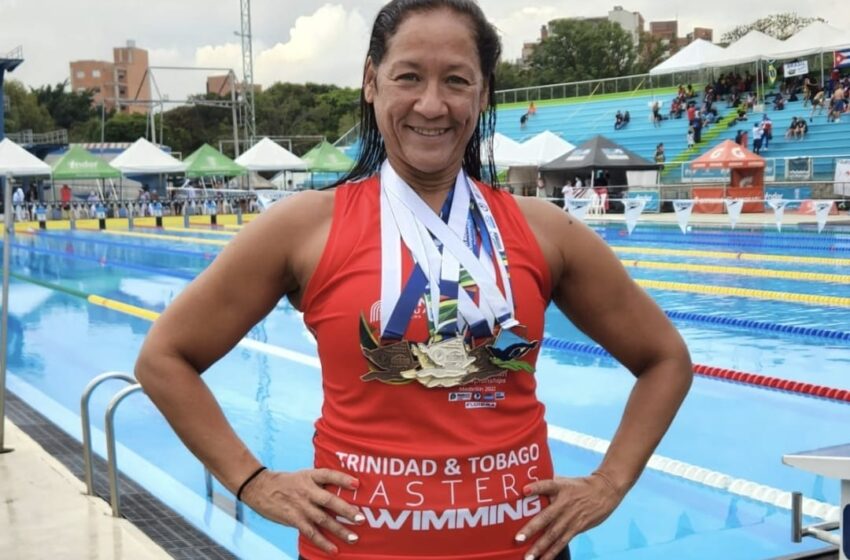 Danielle Fernandes Cozier with her medals from Pan Am Games held in Medellin, Colombia
Dani Fernandes Bags Ten Medals
Credits family, coaches for success
August 20, 2022

5 minutes read
By Prior Beharry
HER ten medals were so heavy that she needed the support of her two coaches to display them on her arms.
At 56-years-old, Danielle Fernandes Cozier, known in the masters swimming world as Dani Fernandes, is committed to doing her best.
She attained six medals at the Pan Am Games held in Medellin, Colombia from July 21 to 28 and another four at the US Masters 2022 Summer Nationals in Richmond, Virginia held from August 3 to 7.
Her road to success was all commitment. She swims on morning six days a week at Flying Fish Swim Club at Federation Park under the guidance of coach Nicholas Washington. Then for at least three days, she is in the gym with her personal trainer Rory Yearwood.
Cozier started swimming at eight years. And at the Central American and Caribbean Amateur Swimming Federation (CCCAN) meet in Santo Domingo in 1977 took the bronze in 50 metres butterfly for girls ten and under. Then in that same competition in Oaxtepec, Mexico, in 1981 she placed third again in the 100m butterfly for girls in the 13 to 14 age group.
That was all she wrote at this time for Cozier in terms of swimming, she finished school and got married and lived in the Unites States for a while due to her husband Stuart work commitments.
She started to train for a masters' meet in 1992 but became pregnant with her daughter Leia and swimming was again put on hold. She also has a son Matthew who is 25.
Cozier returned to Trinidad and started to swim again in 2015 and a year later one of her cousins asked her to do the swim leg in the Rainbow Cup Triathlon relay. It was the start of competitive swimming for her again.
She took part in Fina 2017 Masters Championships in Budapest and placed eight in the 50 metres backstroke.
The following year, Cozier went to Gwanju in South Korea and placed fifth in the backstroke.
On a high, Cozier started to train of the Pan American Masters, but the Covid-19 pandemic caused its postponement.
She continued to her training and it paid off. In Medellin, in July, swimming in the 55 to 59 age group Cozier achieved the following:
Silver in the 50m butterfly in 32.33 seconds;
Gold in the 50 m freestyle in 30.50 seconds;
Gold in the 100 m Backstroke in 1.20.92;
Gold in 50 m backstroke in 35.10 (gold) – a Pan Am record;
Bronze in the mixed relays 200m free; and
Bronze in the 200m IM relay.
She said it was difficult meet for her since Medellin is 1,495 metres above see level.
"I had difficulty breathing. My lungs were burning, they were on fire as I finished the races," Cozier said. She was one of 17 swimmers that Trinidad and Tobago had at that meet.
Then she was invited by US coach and masters swimmer Marty Henderick to join the team Swim Fort Lauderdale for the US Masters 2022 Summer Nationals. She had met Hendrick sometime before and used to train with him.
It was just days after Medellin. She trained in Florida with the team before heading to Richmond where she got four medals and a fourth place, bettering her times since altitude was not a problem here.
Cozier achievements at the US Summer Nationals were:
Silver in the 50m butterfly in 31.67;
Silver in the 50m freestyle in 29.98;
Silver in the 50m backstroke in 34.55;
Silver in the 200m mixed free relay; and
Fourth place in the 200m mixed medley relay.
Her ten medals were so heavy that when she wanted to display them on her arms she had to get the support of her two coaches' shoulders.
Cozier is grateful for the support of her family. Leia sometimes travel with her lending support and has been to Budapest.
She said, "My husband Stuart also shows his support in handing social media posts. He creates videos of the races and notifies everyone. It's really cool."
Sponsorship remains a problem as she said it has been far and few. She said when she went the US to swim, for example, she had to purchase a new tech suit that cost close to US$600.
In the meantime, Cozier is taking the next two weeks off but will be training for the next masters meet in Japan next year.