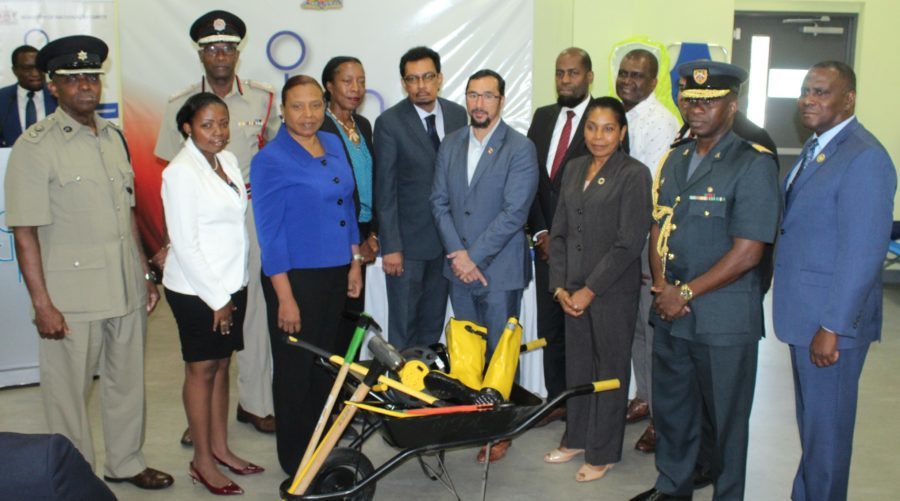 Minister of National Security the Honourable Stuart R. Young M.P. (front row, centre) and representatives of the nine (9) organisations that received disaster stores to be utilised in times of emergencies, at the Handover Ceremony held at the ODPM National Emergency Operations Centre (NEOC) in Mausica today Friday February 28, 2020
9 Organisations get Disaster Relief Items
March 1, 2020
37

3 minutes read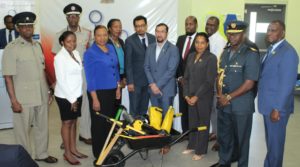 NINE organisations have received relief items as part of the Office of Disaster Preparedness and Management (ODPM) efforts to strengthen Trinidad and Tobago's disaster preparedness agencies.
The organisations were given the relief items by the National Security Minister Stuart Young at a ceremony held at the ODPM National Emergency Operations Centre (NEOC) in Mausica on Friday.
A release by the Ministry of National Security stated that the relief items included: rescue rope ladders, high performance chemical suits, full body harnesses, safety straps, fire blankets, aluminum stretchers, bow saws, pickaxes, hand cranked portable generators, walkers, walking sticks, bedpans, crutches, biohazard waste bags, quad canes, hydraulic bottle jacks, kerosene lanterns, workmen safety gloves and fuel containers.
The organisations that received disaster stores to be utilised in times of emergencies are: the Ministry of Rural Development and Local Government; Ministry of Agriculture, Land and Fisheries; Ministry of Health; Ministry of Social Development and Family Services; Trinidad and Tobago Defence Force; Trinidad and Tobago Police Service; Trinidad and Tobago Fire Service; the Tobago Emergency Management Agency; and the Trinidad and Tobago Red Cross Society.
The release stated that more than $9,200,000 have been allocated for this initiative and the ODPM will oversee distribution of the relief supplies to the nine organisations over the coming weeks.