Top Cop Investigates Duane O'Connor Once being a PNM Candidate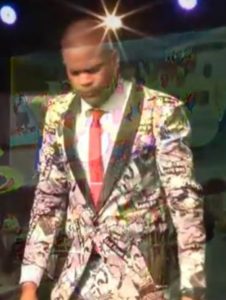 Duane O'Connor
POLICE Commissioner Gary Griffith has launched an investigation after media reports that a police officer applied to be a candidate for the People's National Movement (PNM) in December's local government elections.
A release by the Trinidad and Tobago Police Service (TTPS) on Sunday stated: "When you join the Trinidad and Tobago Police Service (TTPS), you immediately lose certain rights as a citizen. One of those rights is to openly show bias and support for political parties."
Griffith's statements in the news release comes after the Sunday Guardian reported that calypsonian and policeman Du­ane O'Con­nor was of­fi­cial­ly cho­sen by the PNM Cen­tral Ex­ec­u­tive Com­mit­tee as the lo­cal gov­ern­ment can­di­date for the St Ann's Riv­er South for the De­cem­ber 2019 elec­tions. The article stated that his candidacy was subsequently rescinded by the party.
The release stated that in light of this information, Griffith has launched an investigation "into allegations of a police officer applying and being interviewed for a political post in a political party, whilst being a serving police officer and then being quoted in the media of openly expressing his support and allegiance to the principles of that said party."
It stated, "Section 40 of the Police Service Act Chapter 15:01 states 'A police officer is disqualified from membership of the Senate, the House of Representatives, the Tobago House of Assembly, or a Municipal Corporation.'"
The release further stated Section 133:
An officer:
(a) shall not engage in any activity, occupation or undertaking which would impair his usefulness as an officer or in any way conflict with the interest of the Service;
(b) shall not without the consent of the Commissioner, accept any paid employment or engage in any trade or any professional, commercial, agricultural or industrial undertaking, or undertake private work for remuneration, whether in or outside of Trinidad and Tobago;
(c) who invests in or acquires shares in any company carrying on business in or outside of Trinidad and Tobago or who acquires any interest in any professional, commercial, agricultural or industrial undertaking in or outside of Trinidad and Tobago shall, within thirty days after his investment or acquisition, inform the Commissioner of the fact in writing.
Section 139 further states: "An officer shall not make any public expression of political and sectarian opinions, and shall bear himself with strict impartiality in all matters."
Griffith stated that there was good reason for such regulations.
The release added, "Whereby any citizen is free to express and voice their affiliation to any political party, when you swear to an oath as a police officer, you lose certain rights, and rightly so, because at no time must any decision, action, arrest or the charging of anyone be seen or even perceived by the public, of the law enforcement institution acting and abusing their authority based on bias through being politically-aligned to any political party.
"A police officer holds immense authority, which includes that power to take away the rights of freedom of other citizens, hence at no time, must there even be the perception that an officer can and would use such authority to show any degree of bias in the performance of his duties.
"If one wants to have such rights to freely express his/her political alliance, and even to officially join, support, and represent any political party holding any political post, he/she must resign.
"Between the period of swearing such an oath, to when you tender your resignation from the TTPS, any such action could be seen as being biased and politically motivated, and also would be in breach of TTPS Regulations and relevant disciplinary action would be taken.
"Even though more glaring than others, this is not the first such instance of police officers expressing their support for political parties."
The release stated, "With the upcoming General Elections forthcoming, the CoP wishes to advise all police officers that whilst it is your right to covertly support and even vote for any political party of their choice, whilst he holds office, there would be no police officer breaching the regulations to openly support or attack any political party, be it PNM, UNC, ABC OR XYZ.
"On this same issue, the CoP also notes the interesting comments regarding the alleged reason for someone not being selected by a community to represent them, being that he is seen as 'an informant.'"