Social Distancing at Doubles, Food Outlets
NINE-year-old Briston Dumont could not wait to get a taste of mouthwatering doubles in Chaguanas on Monday as some restrictions to fight the spread of the Covid-19 were lifted.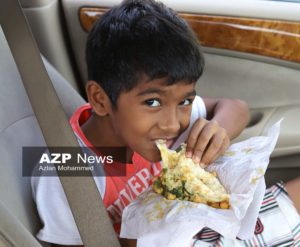 After his father purchased a doubles at the D Original Fly Over Hot Doubles at Endeavour, Briston jumped in the car and devoured the delicacy.
Customers were seen social distancing at this outlet collecting their doubles and taking it away.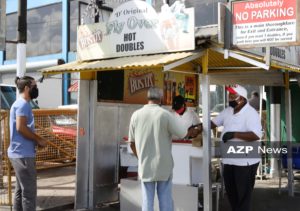 But at the virtual news conference of the Ministry of Health, there was an expression of nervousness as some of the restrictions were lifted.
Minister of National Security showed a photo of a thick crowd of people buying food around a vendor.
Minister of Health Terrence Deyalsingh said, "You see that? That is what will encourage us to reverse phase two and phase three, that is what you don't want. That is what is going to slingshot this country back to where we were last week. So, it's not only the public that has to be responsible, the food vendors also have to discourage that and make sure that there is social distancing,"
He added, "We know that not all 1.4 million people will be responsible. The virus is there waiting to spring, it's there waiting to attack because certain people will be irresponsible."
Deyalsingh said he walked through some places in Port-of-Spain on Monday morning and people were generally taking the regulations seriously.
Young said, "You are not allowed to consume the food product provided by a street vendor on-site.
"The police will enforce that if they have to. We are asking persons to collect your food and move along."
Young also alluded to  the importance of physical distancing and mask-wearing.
Watch video of customers buying doubles in Endeavour, Chaguanas:
Social distancing was observed at KFC on Independence Square in Port-of-Spain.