Nicki Minaj Apologises for Husband Elbowing Iwer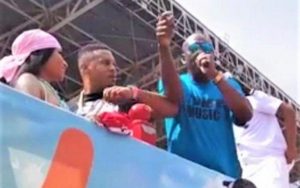 AMERICAN rapper Nicki Minaj has apologised for her husband's behaviour on a music truck on Carnival Tuesday when he elbowed soca artiste Neil "Iwer" George.
The incident occurred during Tribe's passage at the Socadrome.
Kenneth Petty, who married Trinidad-born Minaj last October, was seen elbowing George out of the way while he was reaching out to Minaj during his performance on the music truck.
Comments and memes on social media criticised Petty for his behvaviour.
One person said, "This is totally disrespectful to our artiste." Another said, "Doh come Trinidad and disrespect our water lord."
Others questioned whether Petty would have reacted the same way if it were US artistes like Kayne West or Jay-Z and not George.
Some defended Petty saying that Iwer was in his personal space.
In her apology in Instagram on Wednesday, Minaj, 36, said Petty, 41, had never been to a Carnival in his life and she should have told him that it was "a very comfortable family atmosphere."
In an Instagram video she said, "And I love you. Anyone with an issue can kindly suck a …with two ….on the side."
She subsequently responded, "Oh gawd. Allyuh like s…eh? I go cus all yuh real f… stink yuh know? He don't understand anything about our culture. I apologise on his behalf. He's always in security mode. All love. Love my country to death. Love my ppl to death. Period."
Related: