Map Shows Most Covid-19 Cases in West Trinidad
MOST of the confirmed cases of Covid-19 in Trinidad appear to be on the western side of the island.
Tobago only has two confirmed cases on the southwestern part of the island.
This was revealed at a news conference on Thursday by Chief Medical Officer Dr Roshan Parasram.
The Ministry of Health used Geographical Information System (GIS) to track Covid-19 cases in Trinidad and Tobago.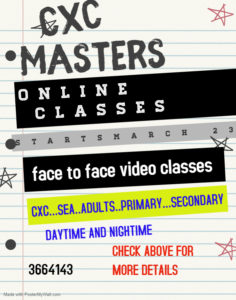 Parasram said the GIS has benefited TT by creating an "evidence based platform for decision-making."
He said it was "an information system that gives us a framework for gathering, measuring and analysing data" and "predominately used for mapping of patients and their contacts, visualising the chain of transmission (actual and potential)."
The data was presented in two maps. The first was a summary of the areas in which the confirmed cases reside and the second showed the movement of these cases from primary to secondary and to tertiary cases.
The first map, which represented data gathered up to April, 1 2020 showed the two confirmed cases in Tobago, close to Scarborough, the capital.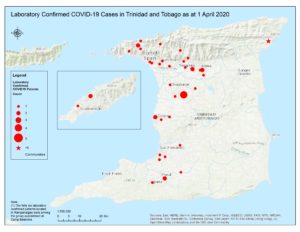 In Trinidad, there were cases shown in the northwest and a high level of concentration along the the East-West corridor.
The trend continued towards Caroni into Chaguanas and Couva. It further traced along the western side of the island to San Fernando, Penal and Siparia.
The map also has an isolated area represented with a star. The CMO identified the area as the facility in Balandra which currently houses COVID-19 patients who came off a cruise.
The second map showed how some of the confirmed cases have moved from primary to secondary and tertiary contacts.
The red dots showed the actual laboratory confirmed cases. The green lines showed movement unto the blue dots, which represent secondary contacts, and the yellow dots, which represent tertiary contacts
Parasram said the northeast and southeast of Trinidad have minimal cases but warned about there being some "hidden cases."