Man Held with Cocaine at POS Wharf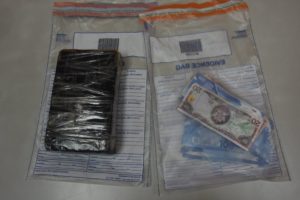 POLICE have arrested a man and seized a quantity of cash and cocaine at the Queen's Wharf, Port-of-Spain, on Thursday afternoon.
Officers of the Specialized Intelligence Unit and the Port Police conducted an exercise at the Caribbean Community Market (CARICOM) Jetty, Queen's Wharf, Port-of-Spain.
Supt Ali, PC's Sookoo and Sinanan and other officers of the Port Police department were conducting routine checks when they observed the driver of a silver grey vehicle acting in a suspicious manner.
The officers approached the vehicle and made a search during which they found a quantity of cocaine wrapped in a black bag along with cash in the sum of TT $7,500.
The items were seized and the driver arrested.
PC Sookoo is continuing enquiries.