Commentary: Covid-19 Mixed Messages
ON Saturday, we got a glimpse of light at the end of the tunnel … a possible end to the Covid-19 lockdown measures in a couple weeks. Looking back at 2019, did you have any inkling that this is what 2020 would turn out to be like? For me, heck no!
And dang, what a rollercoaster ride this is turning out to be! Just trying to figure out what to do and what not to do causes a splitting headache. I created a short compilation of some of the mixed messages we've been getting about Covid-19. How many of these can you relate to?
Before:            Don't wear masks, they're useless against the virus!
Now:               Everyone should wear cloth masks in public.
Before:            Oh, animals can't get infected with Covid-19. Max and Lulu are safe!
Now:               Umm, a tiger tested positive for coronavirus in the Bronx Zoo, New York City. So have some pet cats and dogs.
Before:            Wash or sanitise all your groceries before storing them in your home!
Now:               We want to assure you there is currently no evidence that food packaging is associated with the transmission of Covid-19. No need to wipe down your                            groceries. (Source: US FDA).
Before:            The grocery stores are open and fully stocked! No need to panic buy!
Now:               Yes, the groceries are open. Just expect a few things on the shelves to be missing. And prepare to pay a little bit more for the items you want to buy …                               sorry.
Before:            Scientists are studying viable treatments for Covid-19
Now:               Maybe scientists should test whether human beings can be injected with household disinfectants such as bleach, as a way to fight the coronavirus                                    (You heard me! A world leader suggested this!)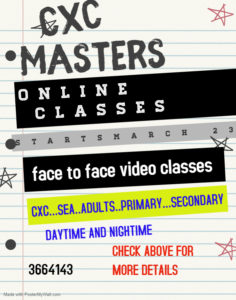 Before:            Older persons, and persons with pre-existing medical conditions such as asthma, heart disease and diabetes appear to be more vulnerable to                                            becoming severely ill with the virus.
Now:               Human beings as young as infants are dying of Covid-19. And it may be thickening the blood and causing strokes in young adults too.
Before:            Schools are closed.  Educate your children online at home.
Now:               Sudden realisation that this concept has serious flaws. Particularly if your have poor internet (or no internet), only one computer for multiple                                            children (or none at all), or what to do when you have to go to work and leave the children home.
Before:            Stay home to stay safe and stem the spread of Covid-19. The Police will be patrolling to ensure society complies and keep us safe from this invisible                                   enemy.
Now:               Certain Legal Luminaries – The police are breaching your constitutional right to freedom of movement if they make you turn around and go home.                                  Know your rights. (Yup, asserting your legal rights can be a beautiful thing. But are you being oppressed, or inconvenienced for the greater good?                                    Don't all lives matter, not just your freedom of movement?)
Before:            Coronavirus cases will be tallied daily.
Now:               We're only testing folks who are dead or almost dead. Could be lots more cases out there… Sigh.
Before:            No one will suffer from the lockdown! We will give you special COVID-19 social assistance grants!
Now:               You need to get X, Y, Z and do a few other things to apply. Then wait until you hear from us. Please don't starve in the interim!
And the list goes on and on …
Our country has been treating coronavirus cases for about six weeks now and while statistically speaking, we seem to be doing a lot better than other countries, scientists everywhere are saying get ready for a long haul. Life as we knew it may not return until maybe 2021/2022. A time machine to turn back time to the good ole days would be awesome right now, wouldn't it?
In the absence of time travel, a good friend suggesting a coping skill to practise: create a goal, a target or make a list of things you want to do when this is over. Something to look forward to and give you the strength to marshal on. But another wonderful thought, is to remember when you wake up every day to be incredibly grateful for all the good things you have going for you, however small they may be.
Copyright © 2020 Neela Ramsundar, LL.B (HONS), L.E.C is a Civil Litigation Attorney at Law & Certified Mediator.
Disclaimer: The contents of this article are for general informative purposes only. It does not provide legal advice and does not create an attorney-client relationship with any reader. For legal advice on your specific situation, please contact an Attorney-at-Law of your choosing directly. Liability for any loss or damage of any kind whatsoever allegedly incurred a consequence of using content in this article is thus hereby excluded to the fullest extent permitted by law.