Police Commissioner Gary Griffith in Port-of-Spain on Monday. Photo courtesy TTPS
70,000 Take Part in POS J'ouvert
February 24, 2020

4 minutes read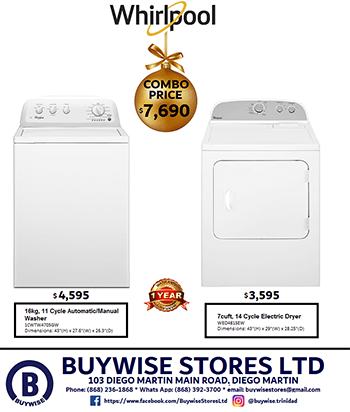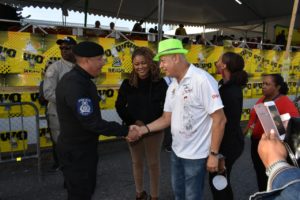 THERE were 70,000 revellers for J'ouvert celebrations in Port-of-Spain on Monday.
Tunapuna had the second highest number with 15,000, followed by Cedros (10,000) and then Chaguanas with 9,000.
This according to Police Commissioner Gary Griffith who commended citizens for "their exemplary behavior and their observance to the rule of law during J'ouvert celebrations this (Monday) morning."
According to a release from the Trinidad and Tobago Police Service (TTPS), Griffith said people accepted the ban on glass bottles as the Carnival (Prohibition of Glass Bottles) Regulations 2020 took effect at 4 a.m. Monday and will end at midnight on Tuesday.
He said the country has accepted that the banning of glass bottles was necessary as it would reduce injuries and possible death.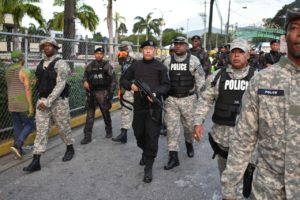 He said by 11 a.m. on Monday there were only minor offences with several people arrested, but no life-threatening injuries.
The release said police conducted road checks at Cocorite, Curepe, San Juan, Morvant Junction, Tunapuna, Lady Young Road, the Beetham Highway, Priority Bus Route, Eastern Main Road, Laventille and in other areas across the country.
The TTPS figures for J'ouvert:
* Point Fortin – 1,200
* Sangre Grande – 4,000
* Port-of-Spain and Environs- 70,000
* Tunapuna – 15,000
* San Juan – 1,900
* Chaguanas and Environs – 9,000
* Cedros – 10,000
* San Fernando – 7,000
* Tobago – 8,000
* Siparia – 500
* Biche – 200
Griffith commended officers for their commitment to duty by turning out in large numbers.
He said for the second consecutive year, police officers responded for duty across the nine Divisions.
Griffith noted that the few who did not turn out for duties on Monday must report to the Office of Commissioner at 9 a.m. on Thursday to explain their absence from Carnival duties.