5.3 Magnitude Earthquake Rocks Tobago, Grenada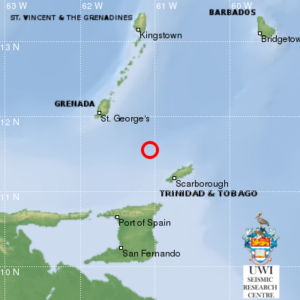 AN earthquake with a magnitude of 5.3 has been felt in Tobago, Grenada and Trinidad.
According to the University of the West Indies Seismic Research Centre, the earthquake occurred at 11.26 pm on Monday.
It was located at Latitude 11.55N and Longitude 61.07W with a depth of 10 km.
Its location was given as 55 km NW of Scarborough in Tobago, 93 km SE of St George's, Grenada and 103 km NNE of Arima in Trinidad.
People on the centre's Facebook page said it was felt in Scarborough and Mt Pleasant in Tobago and in Diego Martin, St Joseph, Maracas and Arima in Trinidad.