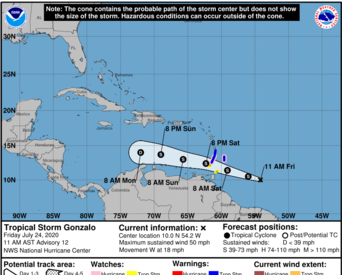 Tropical Storm Watch for Tobago, Grenada
July 24, 2020
22

3 minutes read
THE United States National Hurricane Center (NHC) warns that Tropical Storm Gonzalo is moving quickly towards the southern Windward Islands and is expected to bring accompanying conditions tomorrow (Saturday).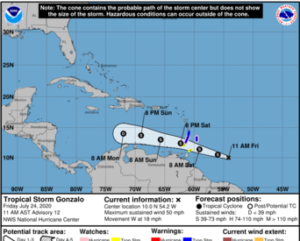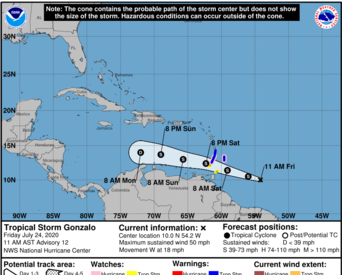 In its 11am update on Friday, the NHC stated that the centre of Gonzalo would approach the southern Windward Islands Friday Night, move across the islands on Saturday and over the eastern Caribbean Sea on Sunday.
Winds were near 85 kilometres per hour but there was uncertainty in the intensity forecast with some strengthening possible during the next day before Gonzalo reaches the Islands.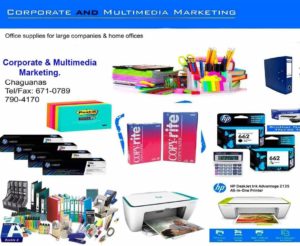 It was expected to weaken after moving into the Caribbean Sea and the cyclone should dissipate by the middle of next week.
The NHC stated that Gonzalo could produce total rain accumulations of two to five inches, with isolated maximum amounts of eight inches in Barbados and the Windward Islands through Sunday night.
The Tropical Storm is expected to bring two to four inches of rainfall in Trinidad and Tobago and one to two inches over northeastern Venezuela.
Rainfall in Barbados and the Windward Island could lead to life-threatening flash floods.
In light of the approaching storm, watches and warnings are in effect for several Caribbean countries.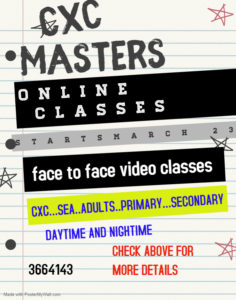 A Tropical Storm Warning is in effect for:
Barbados
St Vincent and the Grenadines
St Lucia
A Hurricane Watch is in effect for:
Barbados
St Vincent and the Grenadines
A Tropical Storm Watch is in effect for:
Tobago
Grenada and its dependencies