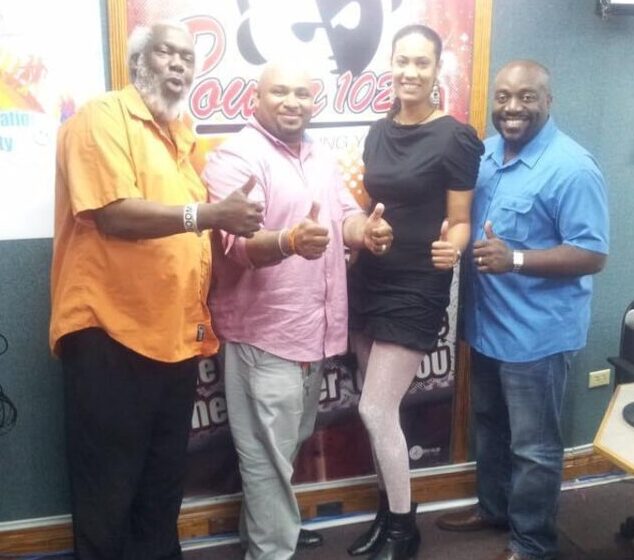 Flashback 2011: The late Dennis 'Sprangalang' Hall, left with Larry Lumsden, Khadijah Ameen and Wendell Etienne
Sprangalang Remembered as 'Unapologetic Country Bookie'
October 3, 2020
2

5 minutes read
By Sue-Ann Wayow
TRIBUTES have begun pouring in for the late Dennis 'Sprangalang' Hall who entertained audiences for many years bringing laughter in the homes of many.
Hall passed away on Friday at the Eric Williams Medical Sciences Complex at Mt Hope. He was 71.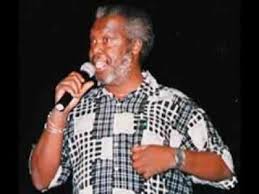 Minister of Tourism, Culture and the Arts Randall Mitchell said, "The range of Sprangalang's talent knew no boundaries as his credits included comedian, storyteller, actor, talk-show host, writer, producer and director.
"Trinidad and Tobago's entertainment landscape was made richer by his engaging performances and humorous take on life.  Sprangalang was a giant in the industry and a cultural icon.  He will certainly be missed."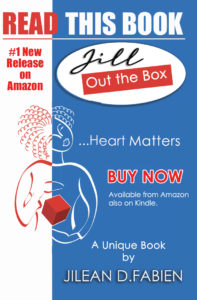 The Trinbago Unified Calypso Organisation (TUCO) posted on their social media page, a tribute to the comedian giving a bit of history of the entertainer's career.
"Mr. Hall was a comedian, historian, actor, producer, talk show host, singer/composer and a Lifetime Member of TUCO. Mr Hall starred in the 2003 situation comedy Lord Have Mercy! which was produced in Canada for VisionTV but has also aired on Caribbean International Network and other television stations in the Caribbean in the years since it was produced.
"He was also featured in the 2007 Canadian feature film A Winter Tale, written, directed and produced by Frances-Anne Solomon, as well as the stage play A Man in the Bedroom, alongside fellow Trinidadian comedian Errol Fabien in 2010.
"Mr Hall was also known for his stinging stand-up comedy and toured the Caribbean, the Americas and Europe.
"To his wife, Natasha 'Sexy Suzie' Nurse, family and loved ones, we at TUCO are here with you. May he Rest In Peace."
And Khadija Ameen, deputy political leader of the United National Congress (UNC) in a press release stated that Hall "did not just love the arts, he was the art."
Ameen stated, "He was a brilliant and intelligent human being with a mind that retained facts and processed them in a unique manner. He had the ability to rationalise with empathy.
"Many knew him as a comedian but he was more than that. His ability to make people laugh was natural. He was unapologetic about who he was, where he came from and what his opinions were. That quality could make others comfortable to be themselves in his presence or very uncomfortable."
Recalling when she sat in studio as a guest presenter with him, actor and comedian Wendell Etienne and radio personality Larry Lumsden, she said she listened to him more than talking.
"He was captivating. He would often go in-depth talking about culture, history, politics, or current affairs that was always rich in information, and punctuated by something to make you laugh and shake your head in agreement. He described himself as an 'unapologetic country bookie' and that stuck with me. As a young person serving in public life, I often felt self-conscious of my upbringing in a rural part of Trinidad and this phrase reminded me to be proud of where I came from and for that I am eternally grateful," Ameen said.
See also: