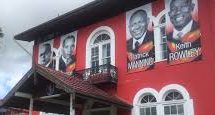 PNM Women Call on Watson Duke to Apologise
February 1, 2020
20

3 minutes read
THE National Women's League of the People's National Movement (PNM) has called on Public Services President (PSA) Watson Duke to apologise for remarks he made about Minister of Labour and Small Enterprise Development Jennifer Baptiste Primus.
Duke made the comments on the TV6 Morning Edition programme on Thursday. He said, "I can look her in the eyes, in the head, any part of her body, I can look at her even though she's not that attractive."
In a release on Friday, the PNM's National Women's League stated, "She is an intelligent, beautiful, articulate and poised black woman. With a long list of accomplishments that men like Duke can never ever dream of attaining."
The release added, "The League wishes to remind Watson Duke that women are not objects or subhuman. We demand respect!
"We caution Watson to keep the name of Minister Baptiste-Primus out of his mouth and to get over his perceived feud.
"The League understands that Duke would always feel inferior to the former PSA President because the superior way she conducted union business.
"However, ad hominem attacks with misogynistic undertones would not be tolerated by the PNM National Women's League or by the women of the nation.
"Therefore, the league calls on Watson Duke to apologise for his sexist statements which show his lack of respect, not just for the Honourable Jennifer Baptiste-Primus, but for all women.
"We urge the women of Trinidad and Tobago to reject Watson's blatant disrespectful views as we await his sincere apology."