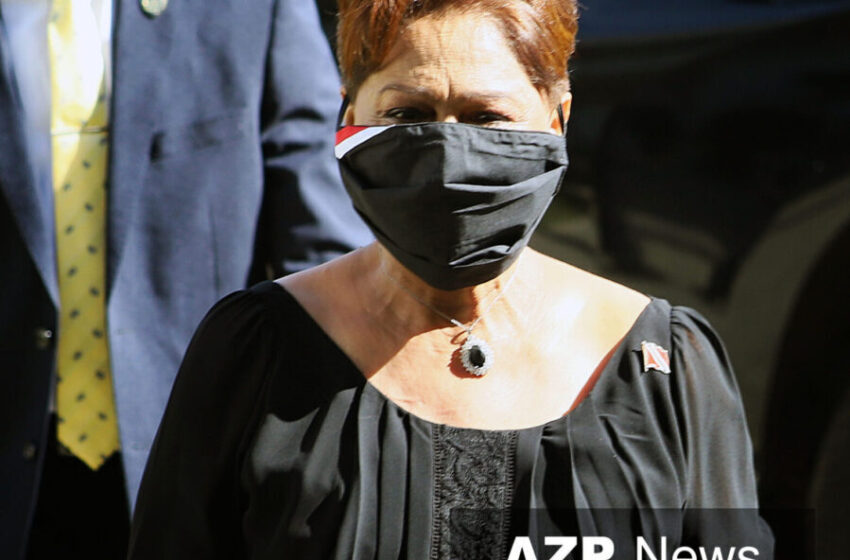 Kamla Persad-Bissessar. Azlan Mohammed/AZPNews
Kamla A No-Show at UNC Monday Night Forum
March 2, 2021
68

3 minutes read
By Sue-Ann Wayow
POLITICAL leader of the United National Congress (UNC) Kamla Persad-Bissessar did not deliver the feature address at the party's virtual report on Monday evening.
In its promotion for the meeting on March 1, Persad-Bissessar was listed as delivering the feature address as was customary.
Other speakers included Senator Wade Mark, Member of Parliament for Oropouche East Dr Roodal Moonilal, MP for Caroni Central Arnold Ram and Senator Jayanti Lutchmedial.  Also speaking at the event was Naparima's MP Rodney Charles who was not on the promo.
Mark was the last person to speak. There was no mention that Persad-Bissessar would not be coming on by those who chaired the evening's proceeding. The meeting ended promptly at 9pm.
Public relations officer for the UNC Dr Kirk Meighoo told AZPNews.com on Tuesday morning that he was unaware of the reasons why Persad-Bissessar did not speak on Monday night adding that she made her position very clear in her most recent statement on Facebook.
He added that he will make further inquiries into her unannounced absence.
Persad-Bissessar wrote on her Facebook page, "I have written to Indian Prime Minister, Narendra Modi requesting his assistance with acquiring the lifesaving Covid-19 vaccine. Currently, thousands of our citizens are losing their jobs due to the economic lockdowns, and thousands more have been stranded abroad and barred from returning home.
"With no clear date as to when T&T will be receiving an adequate supply of vaccines, I regard this issue as critically important to the well-being of our country.
"I took this decision in the interest of all citizens of our nation.
"When the lives and livelihoods of citizens are at stake I will always act urgently in their interest, especially as the government, in this case, has clearly failed to do."
Health Minister Terrance Deyalsingh had lambasted the opposition leader for making such a request from the Indian government.
Several UNC speakers stated their support for the request made by their political leader during Monday's virtual meeting.