Covid-19: Rolling 7-Day Average at 30 Cases Per Day
April 7, 2021
225

2 minutes read
HOSPITAL occupancy rates have increased to about 13% up from 2% at the beginning of the year.
This was revealed by Principal Medical Officer – Institutions Dr Maryam Abdool-Richards speaking at the virtual presser of the Ministry of Health on Wednesday.
She said, "The rolling seven-day average has gone from a low of three to its current position of 30.
"So, that's approximately 30 new (Covid-19) cases being accumulated on a daily basis, and this upward trend is concerning."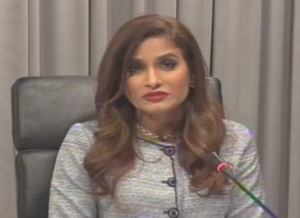 Abdool-Richards said, "We've really noticed generalised community transmission versus a specific event or place.
She said the spread of Covid-19 has shown a shift of transmission of cases from the central region to the East West corridor.
Abdool-Richards said the spread of the virus was no longer restricted to the south and central regions, but was now throughout Trinidad.
She noted that the spread occurred before the Spiritual Baptist Day holiday and there was a noticeable community transmission as a result of co-mingling and social integrating that was fueling the spread of the virus.