Actors Mourn for Kirk Douglas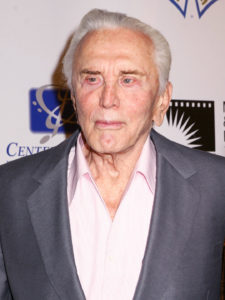 VETERAND Hollywood action Kirk Douglas has died at the age of 103.
Douglas played the title role in the 1960 classic Spartacus. His career spanned seven decades.
His daughter-in-law Catherine Zeta-Jones said on Instagram: "To my darling Kirk, I shall love you for the rest of my life. I miss you already."
Director Steven Spielberg said Douglas left a "breathtaking body of work."
On Twitter Jamie Lee Curtis whose father Tony Curtis also acted in Spartacus, said, "I love you Spartacus, like the father I never had." Antoninus
I did have a father and he LOVED you as the world loved you.
Your Passion.Talent. Politics. Family. Art. Strength. I grew up with the
Douglas boys. My love to Anne and all his family from mine.