A Day in History: January 24
JANUARY 24 holds at least three significant milestones for Trinidad and Tobago.
The reopening of the Red House to again hosting sittings of both Houses of Parliament took place on January 24, 2020.
President Paula-Mae Weekes inspected a Guard of Honour and addressed a joint sitting of the House of Representatives and the Senate. The Red House was refurbished after it went into disrepair and it took eight years, four prime ministers and $441 million to return it to its former glory.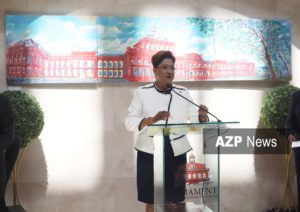 On January 24, 2010, Kamla Persad-Bissessar became the political leader of the United National Congress and later that year she would become the first woman prime minister of TT.
The People's National Movement (PNM) was established on January 24, 1956. Its website has listed this date as the pubic launch of the PNM in Woodford Square in Port-of-Spain.
Advertisement
Other significant events on January 24:
1835 – Slaves rebel in Brazil to end slavery
1848 – The California Gold Rush Begins
1946 – The United Nations General Assembly passes its first resolution founding the UN Atomic Energy Commission
1984 – The Apple Macintoch computer goes on sale
1990 – Japan launches its first lunar probe called Hiten
Advertisement
Famous people born on January 24:
76 – Roman Emperor Hardian
1712 – Frederick the Great who ruled Prussia
1776 – ETA Hoffmann, a German Romantic author of fantasy and Gothic horror, jurist and composer
1941 – Neil Diamond, American singer/songwriter
1943 – Sharon Tate, American actress who was murdered by the Charles Manson family in 1969
Famous people who died on January 24:
41 – Roman Emperor Caligula
1895 – Lord Randolph Churchill UK Chancellor of the Exchequer and father of UK Prime Minister Winston Churchill
1965 – Winston Churchill, UK Prime Minister
1986 – L Ron Hubbard, founder of the Church of Scientology
1989 – Ted Bundy, American serial killer